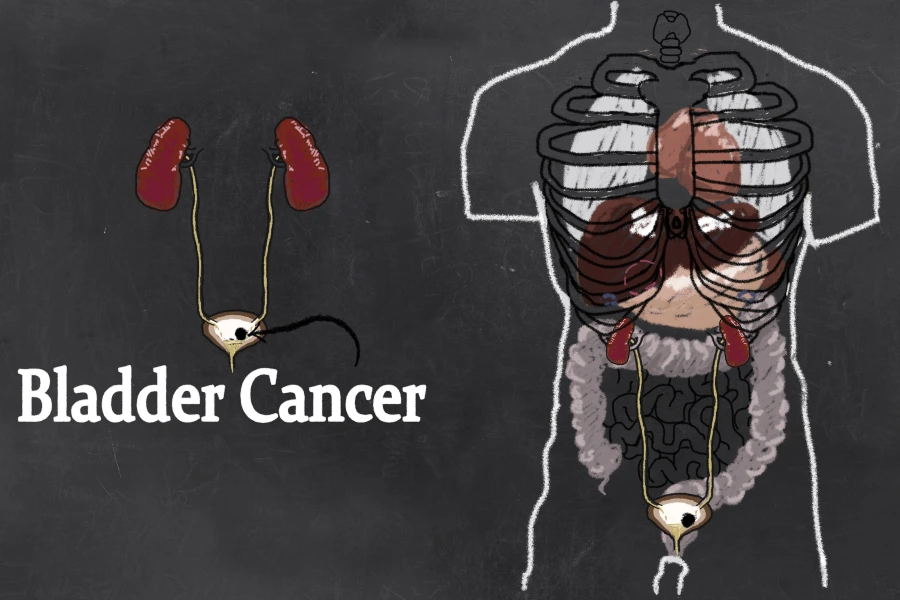 29
Bladder Cancer (Ca of bladder)
General

Common and recurrent type of cancer
Mainly affects the transitional (urothelial cells) in the lining of the bladder. Accounts for 90% of all bladder cancers. Transitional cell cancer (TCC) can originate anywhere in the renal pelvis, urethra, bladder, or ureter but is mainly seen in the bladder
Adenocarcinoma and squamous cell cancer account for much fewer types of bladder cancer.
Second most common bladder type is the squamous cell cancer.
Third most common bladder type is adenocarcinoma
Rare bladder cancers are small cell cancers, carcinosarcomas, sarcomas, and primary lymphomas.
Most bladder cancers are not fatal. About 60 percent of patients will have noninvasive, low-grade transitional cell disease that is treated conservatively with transurethral bladder resection (TURBT). The high-grade disease is more aggressive, rapidly metastasizes (locoregional and distant) , and needs more aggressive treatment, with a guarded prognosis
Can be managed with surgical and non-surgical treatments.
The main symptom is hematuria, (painless, macroscopic or microscopic) and dysuria, which is usually identified early during the disease process, making it a highly treatable(curable) cancer.

Epidemiology

In US 79,000 new cancer cases per year.
Median age at onset/diagnosis: 65 years.
Three times more common in men than women. The death rate from bladder cancer is nearly three times as high in men than in women.
Fourth most common cancer in the US (after prostate, lung, and colorectal cancers) among men.

Pathophysiology

Have a tendency to recur.
Undergoes a great deal of malignant transformation as it is being treated.
Stage T1 of the disease is linked to CIS.
Two low-grade types of TCC (grade 1 and grade 2).
One grade of high-grade cancer (grade 3).
Bladder cancers are also defined by their growth pattern:

Sessile,
nodular,
papillary (most common), and

Ninety percent of papillary cancers grow into the bladder before penetrating the basement membrane, invading the lamina propria, and continuing into the bladder muscle—when it is possible to metastasize. This type of progression is seen primarily with high-grade cancers.
Low-grade cancers don't usually metastasize. About 10 percent of TCCs follow a different pathway and result in CIS. Spreads in a flattened fashion over the surface of the bladder.

Etiology

Cancer of bladder risk increases with:

Tobacco use: the number one cause of bladder cancer.
Occupational exposures to heavy metals or polycyclic aromatic hydrocarbons.
Arsenic exposure.
Radiation to the pelvis.
Previous treatment with cyclophosphamide (a type of cancer chemotherapy).
Chronic indwelling catheters (a major cause of squamous cell cancer of the bladder).

Signs, Symptoms, and Diagnosis:

Ninety percent of patients will just have painless hematuria,
About 20-30 percent will have symptoms of urinary inflammation (with urgency, dysuria, and increased urinary frequency);
Rarely, there will be a pelvic and back pain, leg pain, or flank pain.
Palpable masses are very rare.
Diagnosis is based on a urinalysis with microscopy, urine culture, urinary tumor marker testing, cytology of the urine, CT scanning of the pelvis and bladder and cystoscopy with biopsy.
Metastatic disease occurs to the bones, lung, or liver. although the main sites include
Extension occurs in the abdominal and pelvic tissues (mainly and the first site regional and abdominal LNs).

Treatment:

CIS

TURBT cannot be used for CIS because the disease is often too diffuse for that.
Crucial to remove all cancer with the surgery
Blue-light cystoscopy with 5-aminolevulinic acid is used to pick up more cancer under fluorescence that can be seen with an ordinary cystoscopy.
Combined CIS and papillary cancer, papillary cancer needs to be treated before the CIS.

Muscle-Invasive

Radical cystectomy or bladder preservation protocol (a transurethral resection of the bladder tumor), followed by radiation therapy and chemotherapy concomitantly.
Low-grade tumors are treated with repeated TURBT and installation of intravesical BCG.

Could be done before surgery to decrease the size of cancer and to slow its growth.
Bacillus Calmette-Guerin (BCG) immunotherapy or intravesical chemotherapy may be used for patients with recurrent disease (which is common).

Patients with high-risk disease that is not muscle invasive can be treated with BCG instilled into the bladder.
The rate of progression depends on the stage.

Ta disease have an 11 percent progression rate.
T1 disease have a 31 percent progression rate.
CIS has a 23 percent progression rate.
BCG or chemotherapy is given at about two to four weeks of resection of visible cancers.

Gives the bladder a chance to heal from surgery.

Interferon alpha or interferon gamma are sometimes used along with BCG.
If the disease recurs after 2-3 BCG treatments, the patient should be considered for a radical cystectomy.
Another option is Intravesicular docetaxel.
Fluorescence-guided surgery is better than regular cystoscopy surgery.
The radical cystectomy is reserved for those patients who have a muscle-invasive disease but can be used for patients with CIS or non-muscle-invasive disease.
If the tumor is large, a cystectomy is recommended (as are any cases that have urethral or prostatic involvement).
Anyone who fails intravesical management should have a consideration for a radical cystectomy.
Chemotherapy involves:

Platinum-based chemotherapy drugs.
Methotrexate, vinblastine, doxorubicin, and cisplatin is a commonly-used combination of drugs for metastatic bladder cancer.
The complete response rate is 15-20 percent with this regimen when used for metastatic disease.
The two-year survival rate after receiving this regimen is about 15-20 percent.
Gemcitabine and cisplatin is a less toxic combination that works just as well and is a newer regimen for metastatic disease. It became a standard for the older age group.

External beam radiation is used for high-grade cancers, but it isn't as effective as a radical cystectomy.

The five-year survival rate is about 20-40 percent without surgery, and with surgery going up to 90 percent

Prognosis

Depends on the grade and stage.
Recurrence rate is high. About 80 percent of patients will have at least one recurrence of their cancer.
The prognostic indicators are the depth of invasion, the presence of CIS, and the grade of cancer.
Non-muscle invasive cancer has a 5-year survival rate of 82-100 percent.
Higher stages will have a worsened prognosis.
Only 5-10 percent of metastatic disease patients will live past two years.
Patients with both CIS and papillary cancer will also have a poor prognosis, with a recurrence rate of 63-92 percent.
Languages »